We support you in the digitalization of human resources and analytics!
Planning
With our more than 10 years experience in business planning, we support you in optimizing your planning processes in order to take them to a whole new level! We provide you with recommendations for software solutions and subsequently support you in both the technical implementation and process optimization as a business partner. We have already supported a large number of projects in various business areas. Our expertise also extends beyond the HR area – especially in the integration of workforce cost planning into profit and loss accounting.
Analytics
To ensure that insight can be gained from the previously prepared data, we are happy to support you in analyzing your data. Nothing is more problematic than an often expensive and useless data construct from which it is difficult to gain insights for strategic and operational decisions. Transparency and accountability of decisions significantly increase acceptance and improve the success of the company.
Reporting
Together, we create structured and meaningful reports on the basis of which data-based business decisions can be made. We have experience in various reporting and BI tools, so we can support you in both data connectivity and data preparation. In addition, we are happy to provide you with customizable standard HR dashboards that can be implemented in the shortest possible time.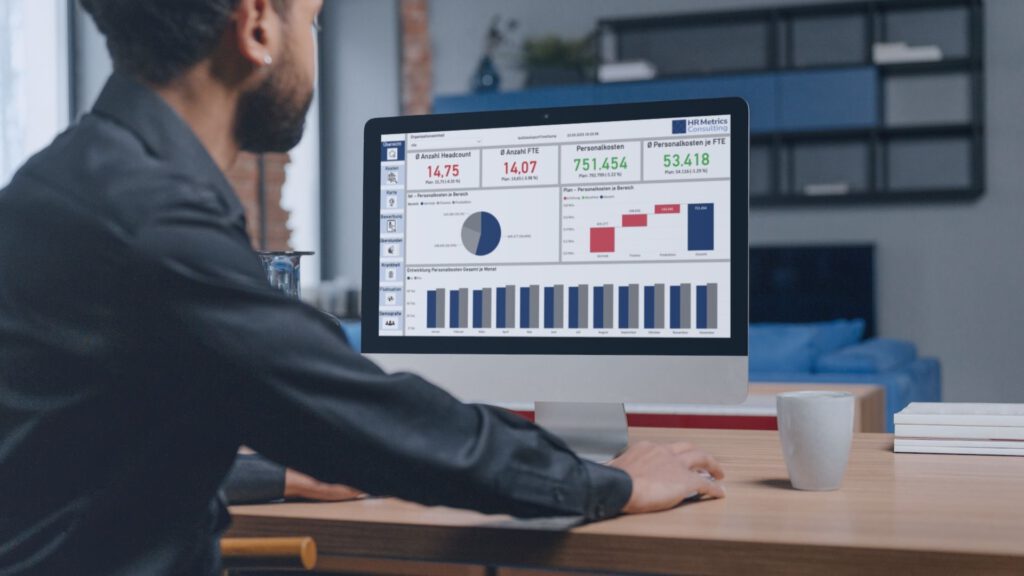 As a partner, we remain continuously by your side.
We are happy to accompany you beyond the topics of process consulting, software selection, implementation and rollout and remain by your side with our after-go-live concept to ensure project success and to generate real added value.
How could a collaboration look like?
As an illustration, you can find one of our standard dashboards here, which allows you to keep an eye on all important key figures live at all times.
Take your workforce cost planning and HR analytics to a new level!